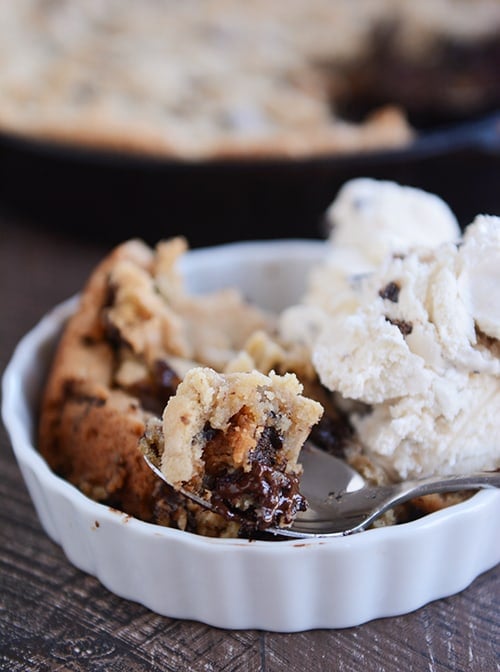 INGREDIENTS
4 ounces cream cheese, softened to room temperature
8 tablespoons butter, melted and cooled slightly
3/4 cup (5.5 ounces) light brown sugar
1/3 cup (2.5 ounces) granulated sugar
1 teaspoon vanilla extract
1 2/3 cup (8.25 ounces) all-purpose flour
1 teaspoon cornstarch (see note above)
1/2 teaspoon baking soda
1/4 teaspoon salt
1 to 1 1/2 cups semisweet, bittersweet or milk chocolate chips
Ice cream for serving
DIRECTIONS
Preheat the oven to 325 degrees F. Butter a 9- or 10-inch cast iron skillet (or pie plate if don't have skillet).
In a large bowl or the bowl of an electric stand mixer, cream together the cream cheese, melted butter, brown sugar and granulated sugar until light and fluffy, 2-3 minutes. Mix in the vanilla.
In a separate bowl, whisk together the flour, cornstarch, baking soda, and salt. Add the dry ingredients to the batter and mix about halfway; there should be dry streaks of flour here and there. Add the chocolate chips and mix until evenly combined (don't overmix).
Spread the batter evenly in the prepared skillet and bake for 25-35 minutes depending on how soft and gooey you want the cookie. Serve warm with ice cream.