My kids gave this recipe a thumbs up...and yay because it is super easy to make! I got this recipe from Six Sisters Stuff. You can find it
HERE
on their blog. Not all my kids are fond of salsa and black beans, so I only put about 1/2 of the beans and a little less salsa than 1 cup. And of course....there has to be Ranch dressing to dip everything into.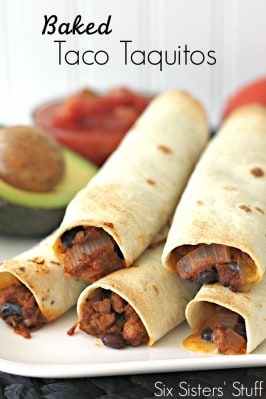 Ingredients
1 lb lean ground beef
1 (15 oz) can black beans, drained and rinsed
1 medium onion, diced
1 (1 oz) packet taco seasoning
2 cloves garlic, minced
1 cup chunky salsa
1 cup cheddar cheese, shredded
20 (6 inch) flour tortillas
non-stick cooking spray
salt to taste
Instructions
Preheat oven to 425 degrees.
Cover a large baking sheet (I use a cookie sheet) with aluminum foil and spray lightly with cooking spray.
In a large skillet, heat oil and add onion and garlic – saute for about 5 minutes until soft. Add beef and taco seasoning, cooking until meat is browned. Add beans and salsa. Mix well and let cook for a couple of minutes so that the flavors can meld and the mixture can thicken.
Spoon 2-3 tablespoons of the taco meat mixture into a tortilla, topped with a pinch of shredded cheese and roll it up. Place taquito seam-side down on the baking sheet. Repeat about 20 times (I had to use two baking sheets because all of my taquitos would not fit on one). Once finished, spray the tops of the taquitos with non-stick cooking spray (or you could lightly brush some olive oil on them) and sprinkle with salt (I like to use sea salt).
Place pan in oven and bake for 15-20 minutes (or until edges and tops are golden). Let cool for a couple of minutes. Serve with salsa or your favorite taco toppings.