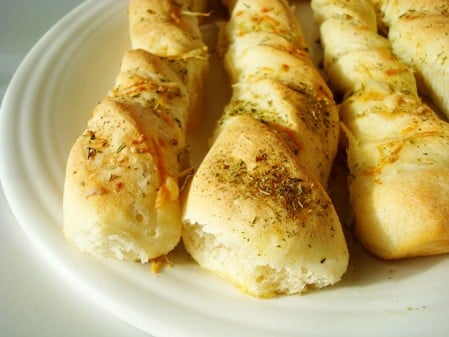 The name says it all. These are good...the best I've found yet! We really like to put mozzarella cheese on top of them too! So good and worth the time it takes! These are from
Mel's Kitchen Cafe
website. She has great recipes there!
1 ½ cups warm water
1 tablespoon instant yeast
2 tablespoons sugar
3 ½ cups flour
½ teaspoon salt
3 tablespoons butter, melted (for the baking sheet)
Mix all ingredients (except melted butter) in a large bowl or electric mixer and knead for three minutes. Let the dough rest for 10 minutes (very important so the dough is pliable). Heat oven to 375 degrees. Spread melted butter onto an 11X17-inch baking sheet. Roll out the breadstick dough about 1/4 to 1/2-inch thick and cut into strips with a pizza cutter. Double strip in half and twist slightly if desired and place about 1/2-inch apart on the baking sheet. Sprinkle with garlic salt, herbs of choice and parmesan cheese. Cover with greased plastic wrap and let rise 30 minutes. Bake 15-20 minutes at 375 degrees until golden brown.