You all know Chad's aversion to mushrooms. But since stroganoff is one of his favorite meals, I have tried over the years to make a decent version of it. This recipe is our all-time favorite. We had it for Easter dinner today, in fact. This stroganoff is one way to Chad's heart. He loves it! And I love that it is a crockpot meal...so easy!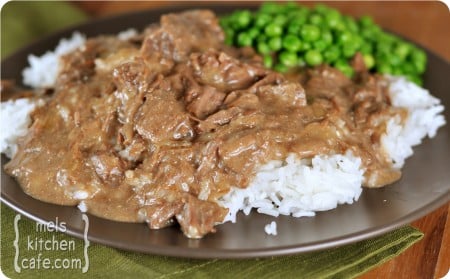 The Ultimate Beef Stroganoff
2-3 pounds stew meat (or a 3-pound chuck roast, cubed)
1 teaspoon salt
1/4 teaspoon black pepper
1 medium yellow onion, diced
¼ teaspoon garlic salt
1 tablespoon Worcestershire sauce
1 ½ cups beef broth or stock
1 tablespoon ketchup
1/3 cup flour
6-7 tablespoons apple juice or water
4-8 ounces sliced mushrooms
(I obviously leave these out and it is fantastic without them)
1/2 cup light or regular sour cream
Place the stew meat, salt, pepper and onion in the slow cooker. Stir to distribute the seasonings and onion. In a small bowl, combine the garlic salt, Worcestershrie sauce, beef broth and ketchup. Pour over the meat. Cook for 7-9 hours on low or 4-5 hours on high. About 30 minutes before serving, combine the flour and apple juice in a small bowl, whisking vigorously to combine well. The roux should be thick but still pourable so add a tablespoon of apple juice or water at a time to thin, if needed. Pour the flour mixture into the slow cooker, whisking quickly to mix in the roux with the stew meat and juices and to avoid lumps. Add the mushrooms and stir. Cook on high for 30 minutes. Stir in ½ cup sour cream right before serving. Serve over pasta, rice or baked potatoes.
*Freezable Meal:
The leftovers of the stroganoff can be frozen. I store the leftovers in a freezer-safe container and then thaw in the refrigerator (usually takes about a day) and reheat over medium-low heat in a saucepan on the stove.