At the many baseball games we have gone to this spring...my kids spend most of their money on snacks including pretzels. So one day I decided we should just make them at home for a after-school snack. They were in LOVE with these pretzels! I made some with salt and some with cinnamon sugar. I found the recipe
HERE
. They are time consuming but not hard to make. My boys loved helping me shape them, boil them and of course eat them!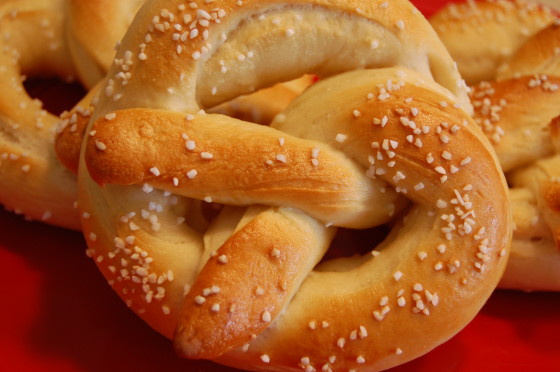 INGREDIENTS:
1 TBS yeast
1 TBS sugar
2 cups warm water
1 cup flour
4 cups flour, mixed with
1 TBS salt, more flour if needed
1 egg
1 TBS water
coarse salt
DIRECTIONS:
1. In a large bowl, stir yeast, sugar and warm water. Let rest until yeast is dissolved and is a little foamy.
2. Stir in 1 cup flour. Then add rest of flour mixed with the 1 TBS of salt.
3. Knead on a lightly floured surface until smooth. Place in a oiled bowl, rolling around until all oiled. Cover and let rise until doubled in size.
4. Remove and knead again just a little bit, gently. Cut into 16 pieces, roll each piece into 14" ropes, shape into pretzels and place on a greased cookie sheet.
5. Cover and let rise 15 minutes.
6. Drop each one or 2 at a time into a small pot of boiling water, boiling each 1 minute, and replace back onto greased cookie sheet.
7. Brush each with eggwash (1 egg beaten with 1 TBS water), sprinkle with coarse salt. Bake in preheated 450 degree oven for 12-15 minutes.