Another yummy one pan meal! Hurray for not dirtying all the dishes in the kitchen to make dinner! I made this last month and is was delicious! I found this recipe
HERE
on Chelsea's Messy Apron recipe website.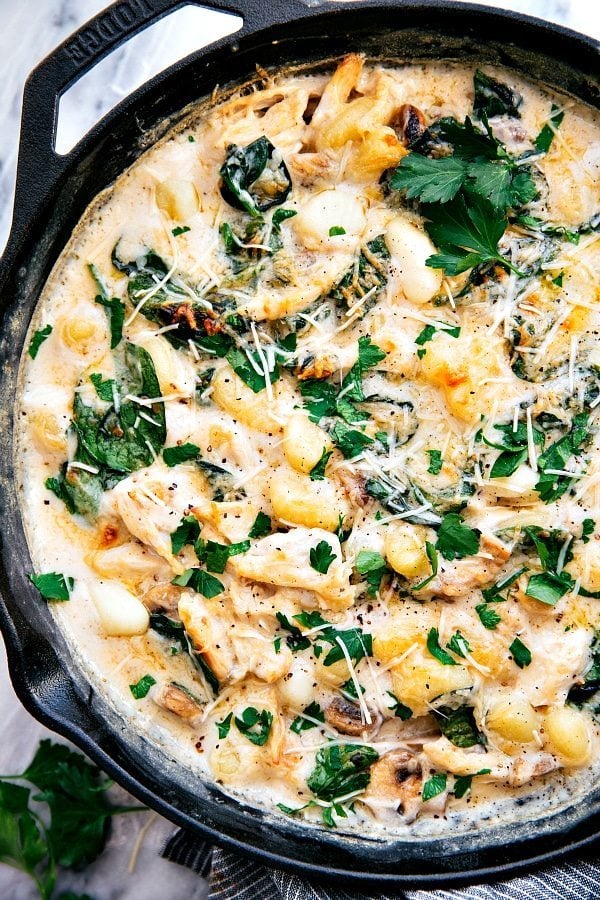 INGREDIENTS
1 tablespoon olive oil
2 cups sliced mushrooms
1 small yellow onion
1 and 1/2 teaspoons minced garlic
4 tablespoons butter
1/4 cup white flour
2 teaspoons chicken seasoning
1/4 teaspoon ground cayenne pepper, optional
1 and 1/4 cups chicken broth
2 cups milk, 2% or whole, 1% works as a lighter but less creamy meal
1 package (16 ounces) gnocchi
2 cups (about 1/2) prepared rotisserie chicken
2 cups spinach
1/2 cup parmesan cheese
Optional: fresh parsley, salt and pepper
Move a rack in your oven to the upper third of the oven and then preheat to 425 degrees F.

In a large oven-safe skillet (I use a 12 inch lodge skillet), over medium-high heat, pour in the olive oil.
Add in the mushrooms and chopped onion and stir until the onion is transparent and mushrooms lightly browned about 5-6 minutes. Add in the garlic and stir for another 30 seconds. Remove to a small bowl or plate and quickly wipe out the skillet.
Place the butter in the skillet and melt. Gradually whisk in the flour until smooth and then and cook whisking constantly for about 3 minutes. Add in the chicken seasoning, about 1/2 teaspoon salt, 1/4 teaspoon pepper, and cayenne pepper if desired.
Very gradually whisk in the milk and chicken broth until the mixture is smooth. While whisking constantly allow the mixture to thicken (about 5 minutes).
Add in the prepared chicken (remove skin and bones and shred or cut into small pieces OR use prepared rotisserie chicken that has already been cut into pieces), gnocchi (uncooked), cooked mushrooms and onions mixture, and spinach. Stir until all is coated.
Top with Parmesan cheese and place in the oven.
Bake for 17-22 minutes. If desired, turn on the broiler and then broil for another 2-3 minutes for a delicious crispy gnocchi.
Remove from the heat, top with additional salt, pepper, and some chopped fresh parsley if desired. Enjoy immediately.